RAMM Fencing as Featured in EXTREME MAKEOVER: HOME EDITION, Sundays 8/7c on ABC
May 21st, 2009
Extreme Makeover: Home Edition. Sundays, 8/7c on ABC
RAMM Horse Fencing and Stalls was chosen last season (2008, Season 5; Episode 18) by the producers of Extreme Makeover: Home Edition, on ABC, to provide Flex Fencing for a family in Cullen, Virginia. Michael & Jean Lucas and their sons purchased land to preserve the site of one of the most famous Civil War battlefields – The Battle of High Bridge. Michael, who serves in the National Guard, was unfortunately deployed to Iraq before their dream home could be completed.
RAMM Horse Fencing & Stalls was honored to step in and help the Lucas Family realize their dream. It was important to Michael and Jean that everything be as authentic as possible to tie-in with their property and their new Civil War museum.
For this reason, RAMMs 5.25″ Brown Flex Fence was installed. "I like the security and strength of the fence and from a distance, it really looks like a wood board fence. It is very eye-catching: we receive a lot of compliments about it," says Michael.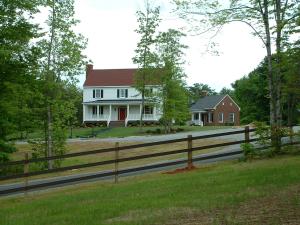 Copyright 2010 Ramm Fence Systems, Inc. All rights reserved.
Get a FREE copy of our 96-page catalog here:
Do you have questions about horses? Ask Debbie! She has answers for you here:
About Debbie Disbrow and RAMM Horse Fencing and Stalls
______________________________________________________________
---
Leave a reply
You must be
logged in
to post a comment.